We imagined Сarnival4David as a space of solidarity. It was held in more than 200 locations worldwide from Zuccotti Park NY, in Rojava, the ZAD in France, Korea, Austria, Berlin and London—Portobello Road—the place where David spent the last years of his life.
Here you can see the recordings of broadcasts from around the world. We are working on an international video and will post it soon.

Speak up from sleep × Wake up from silence, DEMO
October 11, 2020 @ 1:30 pm

-

3:30 pm

JST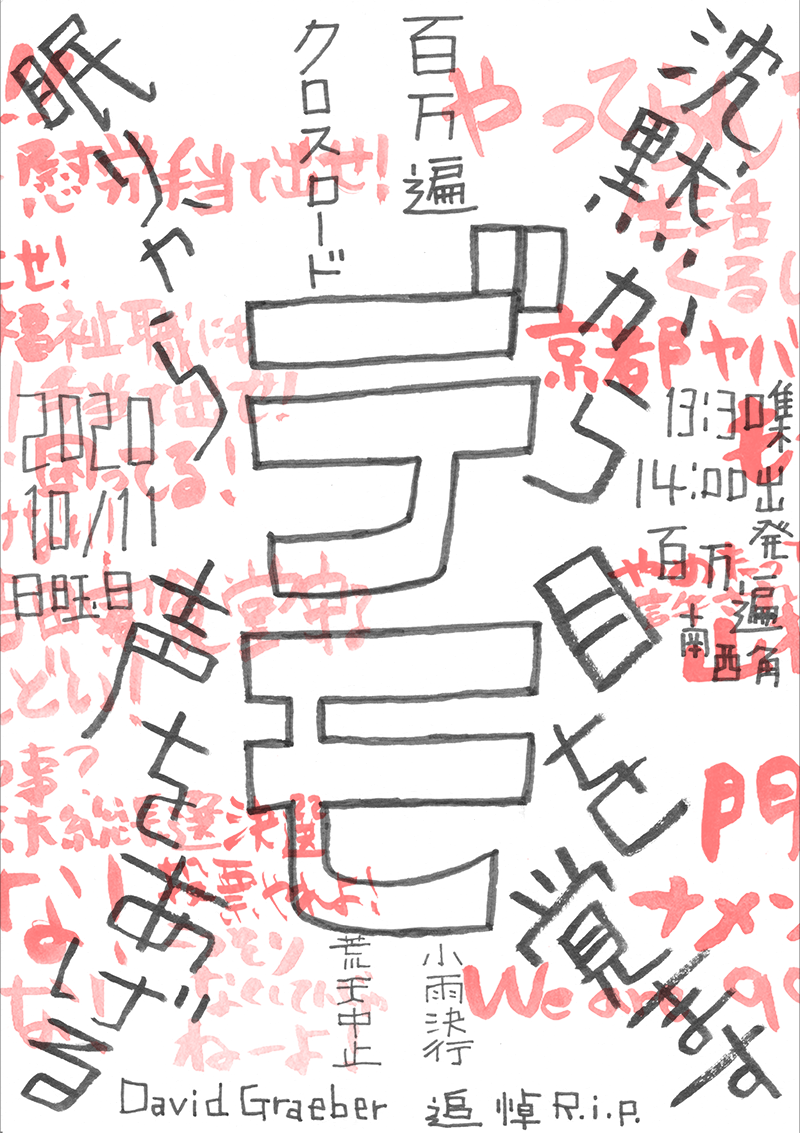 We had planned to do a small homemade demonstration that day, before we even knew about the wonderful memorial project.
In Japan, the coronavirus is not being well managed and the economic hit is causing small shops to close down with no guarantees.
The corona crisis was making it difficult for demonstrations to be launched.
But that's why we planned to raise our voices.
And we wanted to make it a demonstration where we could walk in the streets and raise our fists in the air while thinking about Graver and using humor.
We are 99%!
We will continue to follow the trail of Graver's thoughts and walk with him.
Speak up from sleep × Wake up from silence, DEMO
Sunday, October 11, 1:30 p.m., departure at 2:00 p.m.
At the southeast corner of Hyakumanben intersection, Sakyo-ku, Kyoto
There is a DJ booth, open mic, ringing, masks and fancy dress welcome.
私たちは、まだその素敵な追悼企画の知らせを知る前に、その当日小さな手作りのデモをすることを企画していました。
日本ではコロナウイルスの対策が上手くいっておらず、経済的打撃によって小さい店は保証もなく潰れていっています。
コロナ禍において、デモも立ち上げにくい状況になっていました。
だけど、だからこそ、声を上げていこうと企画したものです。
そしてグレーバーのことを思いながらユーモアを交えつつ路上を歩き拳を掲げるデモにしたいと思っています。
We are 99%
グレーバーの考えてきた痕跡をこれからも辿り、共に歩んでいこうと思います。
10/11日曜日、百万遍クロスロード主宰
「眠りから声をあげる×沈黙から目を覚ますデモ」はデイヴィッド・グレーバー追悼を兼ねています。
立て看号にDJで、オープンマイクあり、鳴り物・仮面&仮装歓迎です。
2mのソーシャルディスタンス横断幕の用意もあります。